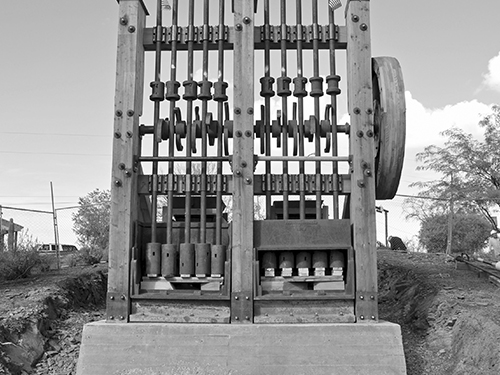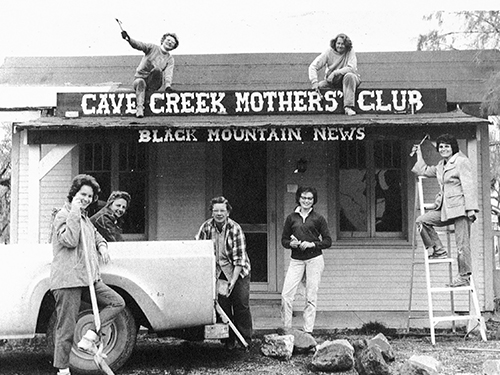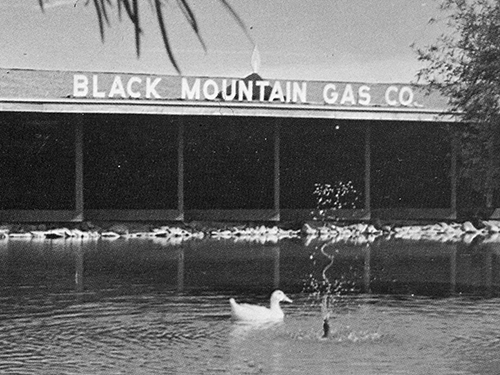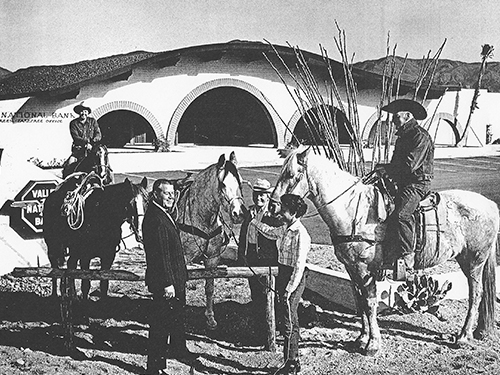 The Chamber of Commerce serves two celebrated towns, with two distinct, celebrated histories.
Two Towns-Two Histories
Carefree and Cave Creek share a beautiful, ancient landmark, Black Mountain; and, a dedicated Chamber of Commerce. Interestingly, the towns do not share historical beginnings. Cave Creek was established pre-statehood, and Carefree was established post-statehood. Let's explore the diverse histories of two celebrated towns.
Arizona became a United States Territory on February 24, 1863. Fort Whipple, near the future town of Prescott, became the first territorial capital. In October, 1870, commanding officer of the new Arizona Territory, brevetted Major General George S. Stoneman, was exploring an established Native American trail which potentially would serve as a shortcut to Fort Whipple, from Camp McDowell (later Fort McDowell). Along this ancient trail, later called the "the Military Road," the Army found a lush, riparian area bordering a flowing creek with adjacent bubbling springs. The welcomed creek, was designated "Cave Creek" by the Cavalry because of a sizable, eroded cave found along the bank.
A few years later, in 1877, the first industrious Anglos built an adobe home along the creek close to where the Cavalry first rested in 1870. Jeriah and Amanda Wood soon established Cave Creek Station. A "station" is an inviting "lodge" for hungry and exhausted travelers. Yes, General Stoneman "discovered" the future town of Cave Creek; it was part of a fortuitous journey to a protective fort in northern Arizona, Fort Whipple (Prescott).
Let's move to the next century. On February 14, 1912, Arizona became the last of the contiguous forty-eight states to achieve statehood. Yes, we are the "Valentine State!" Fast-forward to 1946 when two businessmen met at a Kiwanis luncheon in downtown Phoenix: Stanford graduate, Tom Darlington, and University of Arizona law-school graduate, Kenyon Turner (K.T.) Palmer. The topic of real-estate arose and soon the idea of starting a brand-new town became a compelling idea.
In 1934, K.T. Palmer homesteaded a 640-acre ranch on the western slope of Pinnacle Peak. Mr. Palmer eventually served as President of the Scottsdale Chamber of Commerce. Tom Darlington was the plant manager for Garrett Corporation's Air Research in Phoenix during World War II and decided to stay in Arizona after the War. Mr. Darlington eventually served as President of the Paradise Valley Improvement Association.
Years later, both men found themselves working in a Scottsdale real estate office and a past, monumental-dream was rekindled. It was time to locate a town site with a generous water supply. In 1955, a four-hundred-acre site, a goat farm, was found with an abundant well. Soon, 2,200 surrounding acres were secured. The corporate name, "Carefree Development Corporation," survived as the new town's name (Carefree) after many unique name-proposals were suggested.
In 1958, the Darlington-Palmer building was finished (now Carefree Town Hall). In 1959, the iconic Sundial was completed and home sales successfully commenced. Cave Creek had a new neighbor!
In 2015, the Carefree/Cave Creek Chamber of Commerce celebrated its 50th birthday.
By Kraig R. Nelson, Chamber of Commerce Historian
700 A.D. – Hohokam Native Americans arrive in the Cave Creek area. They developed extensive irrigation systems and trade routes.
1870s -Naming of Cave Creek – Either named for cave on Cave Creek stream shown on old military map or named for Edward G. Cave, "Old Rackensack", early miner
1870 – Colonel George Stoneman built a military road between Ft. McDowell and Ft. Whipple. Cave Creek a cavalry remount station along the route.
1873 – Last cavalry – Apache skirmish in the area. The Cave Creek wagon road built from Phoenix to Cave Creek
1873 – Miners moved in – 144 square mile area known as Cave Creek Mining District established -First recorded gold mine, called the Continental
1880s – Cattle ranchers settled in Cave Creek area
1920s – Land south of Black Mountain opened for homesteading and Tuberculosis cabins built in Cave Creek
1928 – Spur Cross Dude Ranch established
1935 – 1944 – Construction of Bartlett and Horseshoe Dams
1946 – Rancho Manana Dude Ranch established. Electricity and telephones came to the area. (Dial phones and street lights in 1955)
1950s – Cave Creek Mothers' Club produced first newspaper and paid for a kindergarten teacher at the new school house
1952 – Cave Creek Road paved all the way from Phoenix
1959 – 1960 – Development of Carefree getting underway and the Sundial was completed
1985 – Carefree incorporated as a town
1986 – Cave Creek incorporated as a town
2000 – Preservation of Spur Cross Ranch as a conservation area
2002 – Renovation of Carefree Town Center