Come Visit Carefree & Cave Creek, Arizona
Escape to spectacular views of the Sonoran Desert
Colorful native wildflowers, towering Saguaro, and the humble cacti of Tonto National Forest are here to greet you. Truly unique among our city neighbors, Carefree and Cave Creek invite you to enjoy the historic Southwest at its finest.
The beauty of the natural environment in the Carefree Cave Creek area inspires artists, musicians and writers. The two towns are committed to promoting the arts with festivals, public art installations and art galleries. The galleries rival, and some say surpass, the galleries in Scottsdale and Sedona, for the quality and diversity of the art shown, and for the artists' regional and national reputations.
In the scenic Sonoran Desert Foothills, Carefree and Cave Creek are two of Arizona's most distinctive towns. Small town charm combined with friendly locals and more than three hundred days per year of glorious sunshine make the area perfect for enjoying every type of activity, year-round.
Carefree Desert Gardens is only one of two public botanical gardens in the Valley located along Easy Street in downtown, Carefree, AZ.  Situated on four acres, you will find rare and fascinating desert plant specimens on a self-guided walking tour.  Amidst the Desert Gardens lies the famous Carefree Sundial landmark.  It is one of the world's largest sundials measuring ninety feet across.  This ancient time-telling instrument has been attracting visitors since it was built in 1959.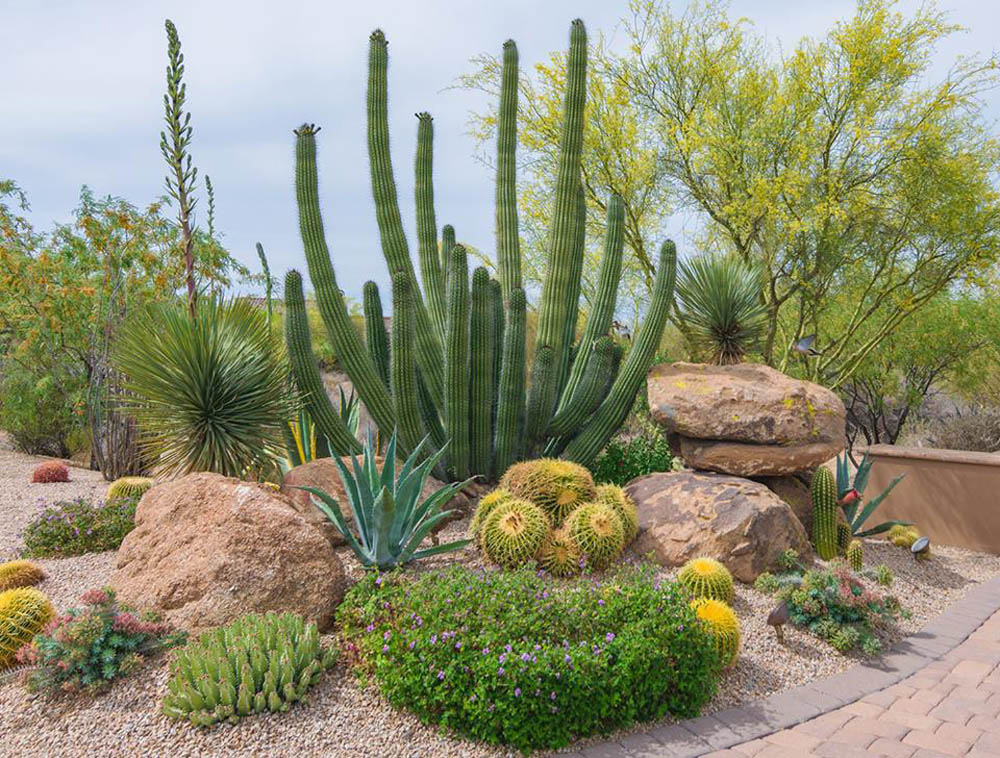 Cave Creek
Along Cave Creek's quaint main street visitors can while away many happy hours rummaging through quirky curio shops, upscale western shops and funky stores. From western wear to consigned designer fashions, home accessories, Native American crafts, pottery, postcards and souvenirs to fine art and furnishings, Cave Creek has an eclectic mixture of shopping. Well-known saloons, live entertainment, authentic southwestern food, ranch style BBQ and fine dining have established Cave Creek's reputation as one of the most recognized and charming Western towns in the U.S.
When it comes to live music, many venues offer live entertainment several nights per week and a few nearly daily, Cave Creek's entertainment district is red hot. Numerous types of evening entertainment are featured including all genres of music from original country to pop cover bands and Jazz. You can often find a solo guitarist with a microphone at numerous establishments or just a guitar hanging on the wall waiting for the musician to walk in and entertain. Several very talented local bands are regulars throughout the area while national acts are also featured throughout the year. Cave Creek is definitely one of the valley's best places for a live show almost any day of the week
In addition to music, there is plenty of other live entertainment and events throughout the area. Live bull riding is available throughout the year as well as rodeo events featuring all the traditional western competitions. Western dance lessons are conducted on various days at more than one local saloon. Sports enthusiasts  will find televised games and loyal  fans cheering on their favorite teams each week at many local bars and restaurants.
Carefree
Carefree boasts several topnotch galleries and jewelry shops, displaying some of the Southwest's finest examples of native and contemporary art and design. Fine art, wine, gourmet food along with outdoor cafes and flowering courtyards all set in pedestrian friendly Easy Street provide a selection of dining and shopping experiences. The whimsical street names and gorgeous setting add to the ambiance.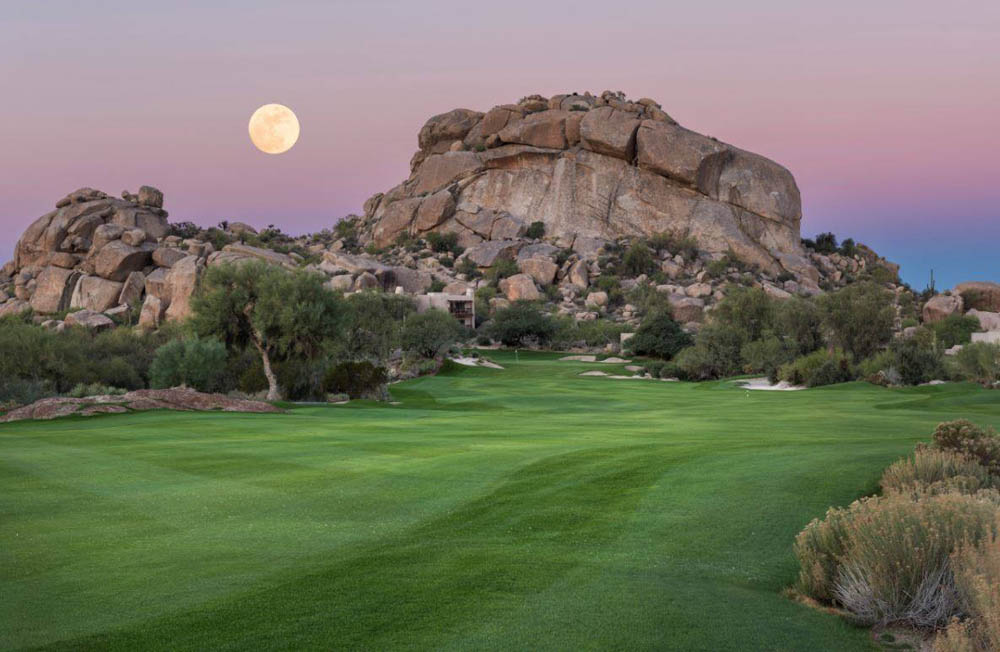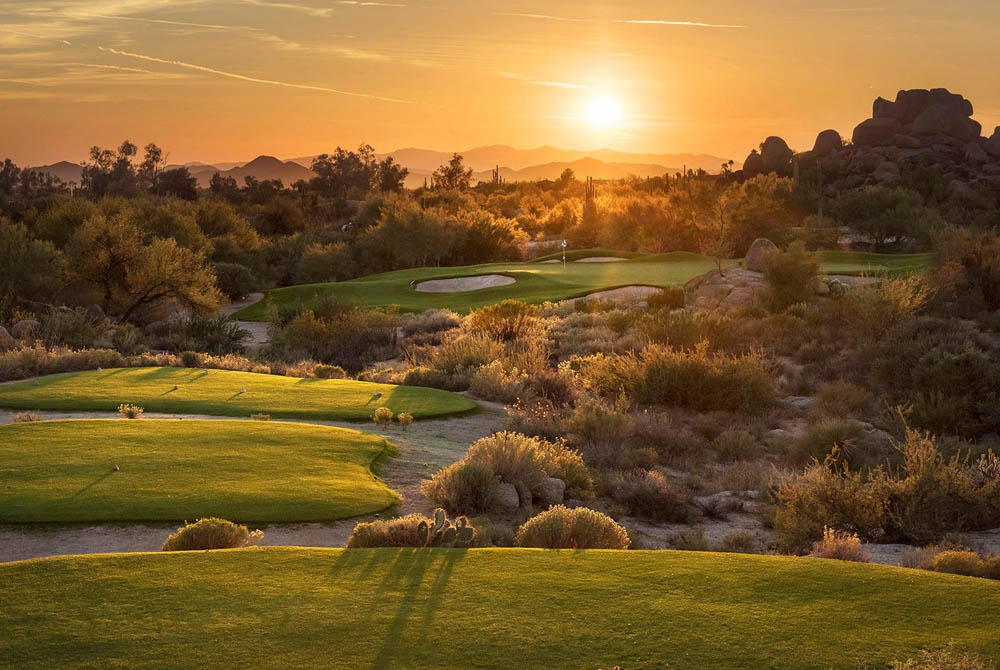 Golfing
Both towns offer a choice of public & private world-class golf courses, situated among some of the most beautiful desert landscapes you will ever see. Whatever your skill level, there will be a course suited to your abilities, making for a great day on the links.
Hiking, Biking and Horseback Riding
The Cave Creek Regional Park protects roughly 3,000 acres of extremely lush Sonoran Desert. The steep and very rocky slopes offer excellent habitat for cacti, desert trees, and many other plants. Wildlife is common at the park. Birdlife is especially abundant, ranging from tiny hummingbirds to hawks. There are excellent trails through Cave Creek Regional Park that range from short and easy to somewhat difficult.  The most popular and challenging is the 4.8-mile Go John Trail, which is amenable to hiking, mountain biking and horseback riding.  Guided trail rides through the park on horseback are available from late autumn through the spring.  Rangers provide a variety of free, guided hikes and activities for visitors of all ages throughout the year.
Cave Creek's historic Spur Cross Ranch, a former guest ranch was established in the 1920s.  It was once a welcoming destination for visitors from all over the world. Today, it's more than 2,154-acre expanse offers avid outdoors people a gateway into the Tonto National Forest's scenic network of paths. Several trails from a flat wide path crisscrossing the stream to a hike up into the mountains of Skull Mesa await you.  Many of these beautiful trails are open to mountain bikers, horseback riders and hikers. Now a conservation area, Spur Cross contains fascinating archaeology sites and lush riparian areas which include The Jewel of the Creek which can easily be reached by two short loop trails.  Towering cottonwood and willow trees along with the unusual year-round presence of water makes this lush riparian area a magnet for plant and animal life. This area is a must see for all wildflower lovers in the spring.
Desert Awareness Park is a native habitat park right in the heart of Cave Creek. A nature trail with labeled plants, natural history center, a children's playground, and shade ramadas with grills make this an excellent picnic and play area for families.
The Tonto National Forest features some of the most ruggedly beautiful lands in the country. The cacti of the Sonoran Desert and flatlands lead into the Mogollon Rim highlands.
Perched on a hilltop is Sear-Kay Ruin, a short drive east of Carefree.  It contains the masonry remains of a small village built by the Hohokam tribe.  A short self-guided hike leads through the ruins.  On the way to Sear-Kay the nearby Tonto Hills development is marked by the world's largest kachina doll.  This impressive 40-foot-tall sentry stands guard and is approachable by road. Drive a little further up the road and you will come to Seven Springs Recreation Area, a popular destination since the early 1900's.  Extensive hiking trails lead from the desert floor to changes in higher elevations where you can enjoy a lovely picnic site under large sycamore trees along the creek.
There are so many ways to explore the area and its incredible scenic views. One of the most exciting and unforgettable things to do in Arizona is explore the desert on an ATV (quad) or UTV (side by side). Jeep tours and hot air ballooning are also popular ways to explore the desert.
Horseback rides happen any time of the day, but our personal favorite is witnessing one of Arizona's beautiful sunsets on the back of a horse.
MacDonald's Ranch and Windwalker Expeditions welcome you to your horseback adventure.
There are three lakes with swimming, fishing, boating, and water skiing within a half hour drive of Carefree and Cave Creek. Fifteen miles east of Carefree are Bartlett and Horseshoe Lakes. Bartlett has picnic tables with shade and restroom facilities, boat rentals, marina, and a restaurant. About twenty miles west is Lake Pleasant, a large lake with a visitor center, restaurant, two marinas and lots of amenities. The Tonto National Forest borders the area on the north and east with its untouched desert beauty.